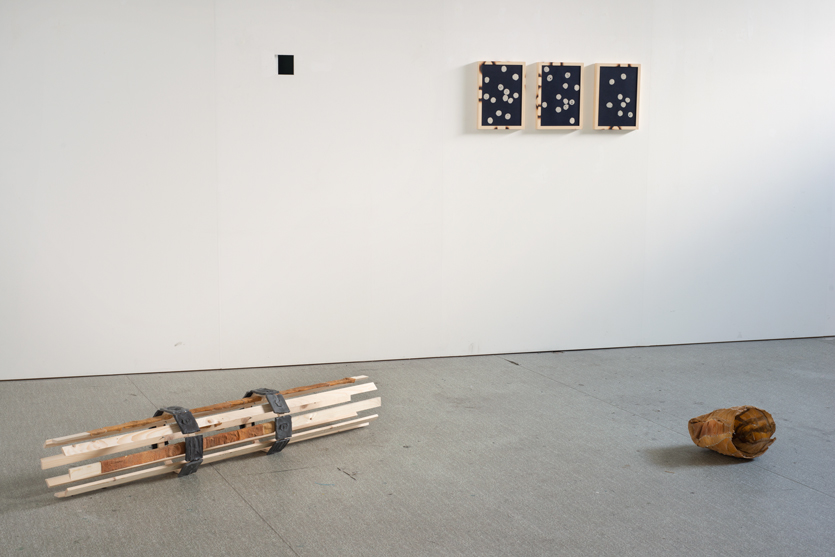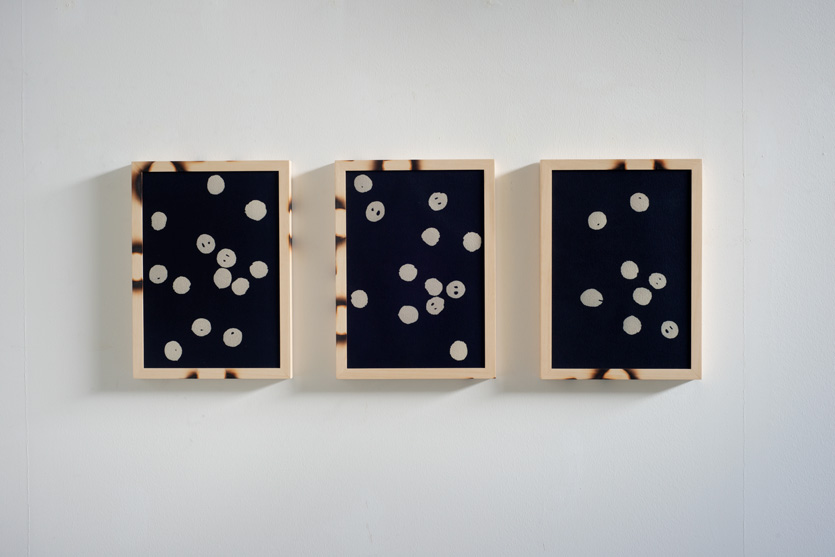 (EN)
During a five-month residency, Maud Gourdon and Chantal van Rijt explored the concepts of coding and decoding. Working with traces of beetles and dried seeds they attempted to decipher messages of tunnels, holes and dots. In the exhibition, Maud and Chantal consider plants and animals as our linguistic equals as they search for ways to translate their hidden and discarded language.

The act of translation is defined by a back-and-forth movement of contraction and expansion, where it is crucial to go back to the root of a word and/or summon a list of synonyms to approach its specific meaning. By playing with the density of language the artists free it from specific meaning and let patterns appear. In doing so, the poetry
of a worm and a seed is revealed. The artists challenge ways to conceive language – human or nonhuman – as well as the communication that occurs in between.
(NL)
In de loop van een 5-maand durende residentie in de M-ruimte werkten kunstenaars Maud Gourdon en Chantal van Rijt rond ideeën van coderen en decoderen. In de sporen van kevers
en de resten van zaden ontcijferen ze tekens van tunnels en gaten. Ter gelegenheid van Open Studio's Leuven presenteren Gourdon & van Rijt een opstelling van hun artistiek onderzoek waarin ze planten en dieren als linguistische gelijken beschouwen door te zoeken naar transcripties van deze verborgen talen.

De handeling van het vertalen definieert zich door een heen-en-weer beweging van samentrekking en expansie, waarbij het cruciaal is om terug te gaan naar de oorsprong van een woord en/of een lijst op te stellen van synoniemen om de specifieke betekenis te benaderen. Door te spelen met de densiteit van taal bevrijden de kunstenaars deze van betekenis en laten ze patronen verschijnen. Tijdens deze handeling wordt de poëzie van een worm en een zaad onthuld. De kunstenaars bevragen de manier waarop we taal ontvangen - menselijk of niet-menselijk - evenals de communicatie die ontstaat tussenin.